INSIDE ISLAY'S LARGEST PRIVATE EMPLOYER
---
6 mins
By:

Hannah Thaxter

People
Islay is one of Scotland's distilling regions; there are 9 working distilleries here and more in development. How does Bruichladdich Distillery sit within that industry context, and within the context of population trends? What are the dynamics of working here?  We dig a little deeper into what it means to be the island's largest employer in the private enterprise sector.

Visitors to Bruichladdich Distillery are greeted by a warm smile of welcome from anyone they meet. What makes that infectious enthusiasm so genuine is difficult to quantify; it's more than just a place of work - of production, manufacture, packaging, sales, and exports - it's a place of belonging. There's a hum of energy about the place, overlaying the heartbeat of Victorian machinery at work. 110 people currently work for Bruichladdich Distillery Company. More than 70% of us are based here on the island - with other colleagues based in the Glasgow office - not including five seasonal staff and freelance talent. It makes us the biggest employer, outside of the public sector, on the island.

In 2020, Bruichladdich became one of the only distilleries in the world to meet the stringent standards of social and environmental performance, accountability and transparency, to earn B Corp accreditation. It means we are legally - not just morally - required to consider the impact of our decisions on our workers, customers, suppliers, community, and the environment.

Distilling, as an industry, is a significant employer here.  Tourism, farming and fishing are the other main industries on Islay. This chart from scotlandscensus.gov.uk shows how the local labour market compares to the national data, from the 2011 census.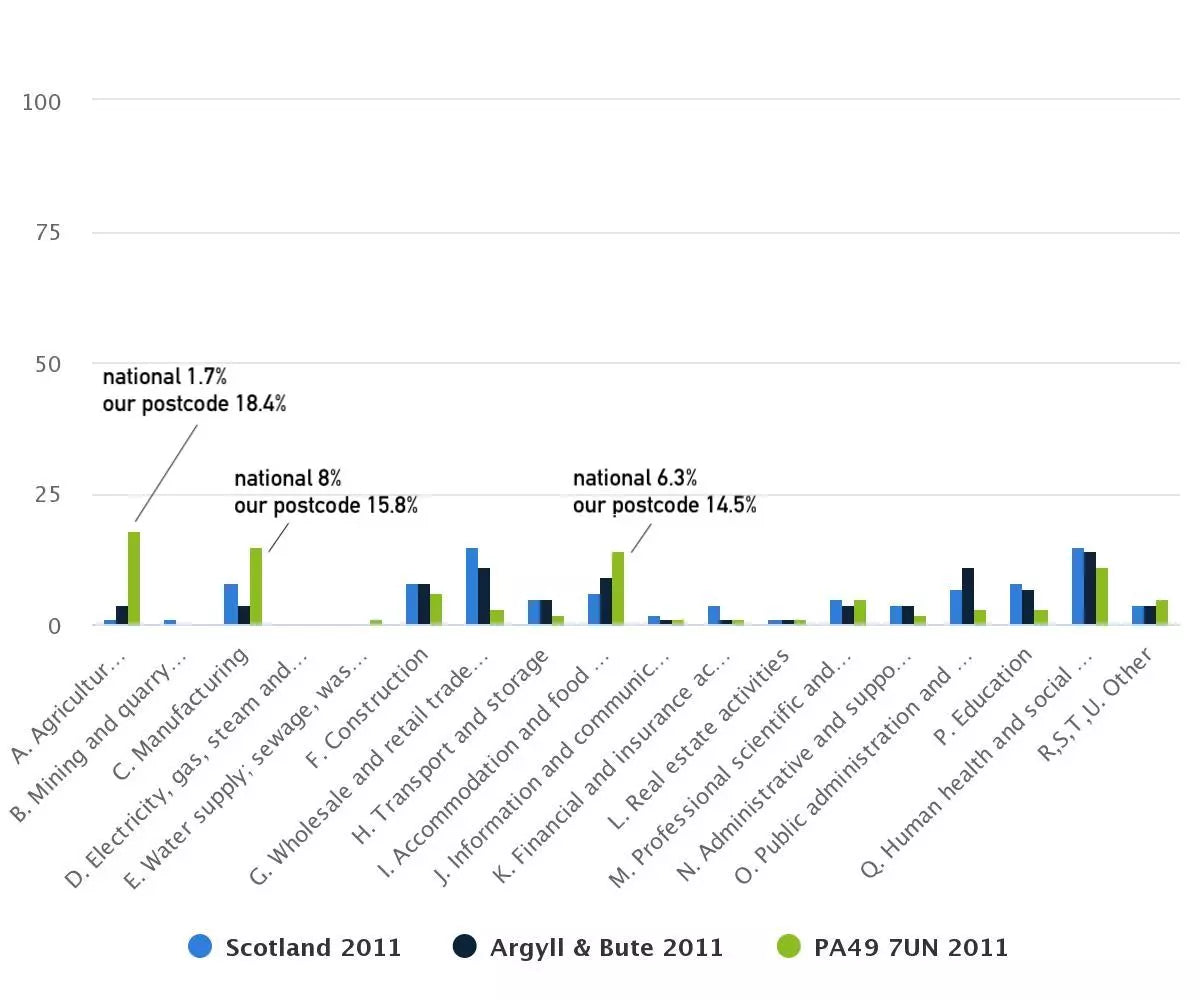 For perspective, Islay Crab Exports is a multi-million pound enterprise which employs 10 people here – and have vacancies for a further 10. They have four drivers on the mainland and 40 who crew the fishing boats, all paid by the company but who don't necessarily live on Islay. The Machrie Hotel and Golf Links is the largest hotel here; they employ 61 people locally.

Comparing Bruichladdich's local team of 81 with other distilleries: Ardbeg is the same size by its whisky output and has 30 staff on Islay; Laphroaig produces triple the quantity with 33 local staff. Kilchoman employs 41 to produce about half the amount of whisky Bruichladdich do, and the newest of the island's distilleries, Ardnahoe, has 26 on the payroll. As the third smallest distillery on the island by output – currently 1 million litres a year - Bruichladdich employs proportionately even more people. A deliberate choice to keep all the warehousing, bottling, supply chain, and other non-production functions, including parts of our digital and design teams, in-house here at Bruichladdich helps swell the ranks.