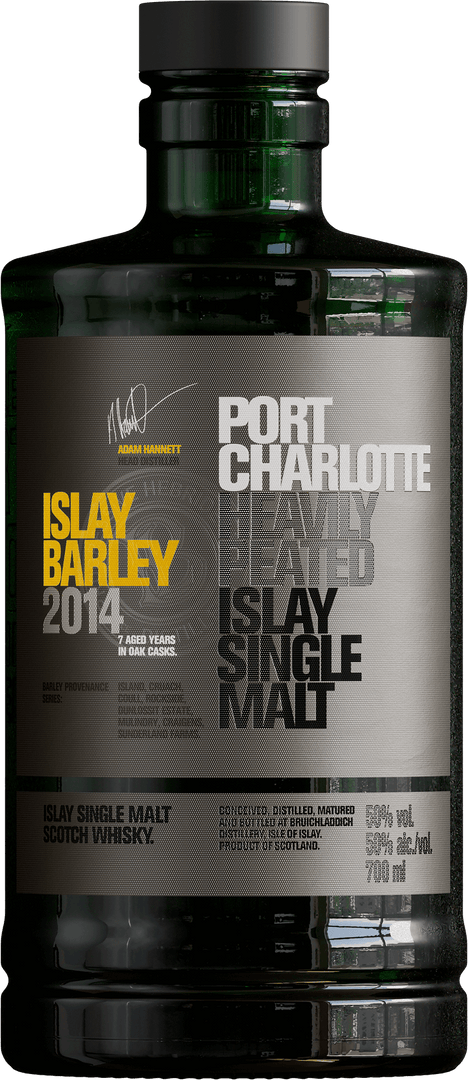 Port
Charlotte

Islay Barley

2014
£80.00 50% ALC./VOL.
Port Charlotte Islay Barley 2014 embodies everything an Islay whisky can and should be. As well as adding complexity and depth to this single malt, the Islay grown barley goes beyond just the pursuit of flavour - evoking a true sense of place.
We are committed to reducing unnecessary packaging and waste and no longer offer a secondary tin when ordering this product. Read more.
A LESSON IN AGRICULTURE
---
Cruach, Craigens, Island, Dunlossit, Coull, Rockside, Sunderland & Mulindry Farms
Located within 15 miles of the distillery, each of our eight local farming partners undertook the risk of growing in challenging conditions to deliver the barley used for this 2014 vintage.
Being located on Scotland's rugged west coast, unpredictable weather, and grazing wild geese and deer means a successful harvest on Islay is never a given. But it's a risk worth taking, resulting in a single malt with total traceability and unparalleled provenance.

Bottled at 50% ABV and peated to 40 PPM, the maturation profile consists of 84% in first fill bourbon casks, 8% in second fill Virgin oak and 8% in second fill Bordeaux wine casks. With notes of malty digestive biscuits and peat paving the way for a sweet medley of apricot, peach and ripe melon, this 2014 release holds fruit and smoke in perfect balance.
A COMMUNITY ENDEAVOUR
The barley harvest for this 2014 vintage was raised by eight local farmers on Islay; Craig Archibald at Craigens, Ian McKerrell at Island Farm, Raymond Fletcher at Dunlossit, Andrew Jones at Coull, Mark French at Rockside, Raymond Stewart at Sunderland and Islay Estates at Mulindry. These farming partnerships not only help to develop new soil-improving practices and encourage crop diversification but help support the island's integral agricultural community.
Port Charlotte
Islay Barley
2014
PRODUCT DETAILS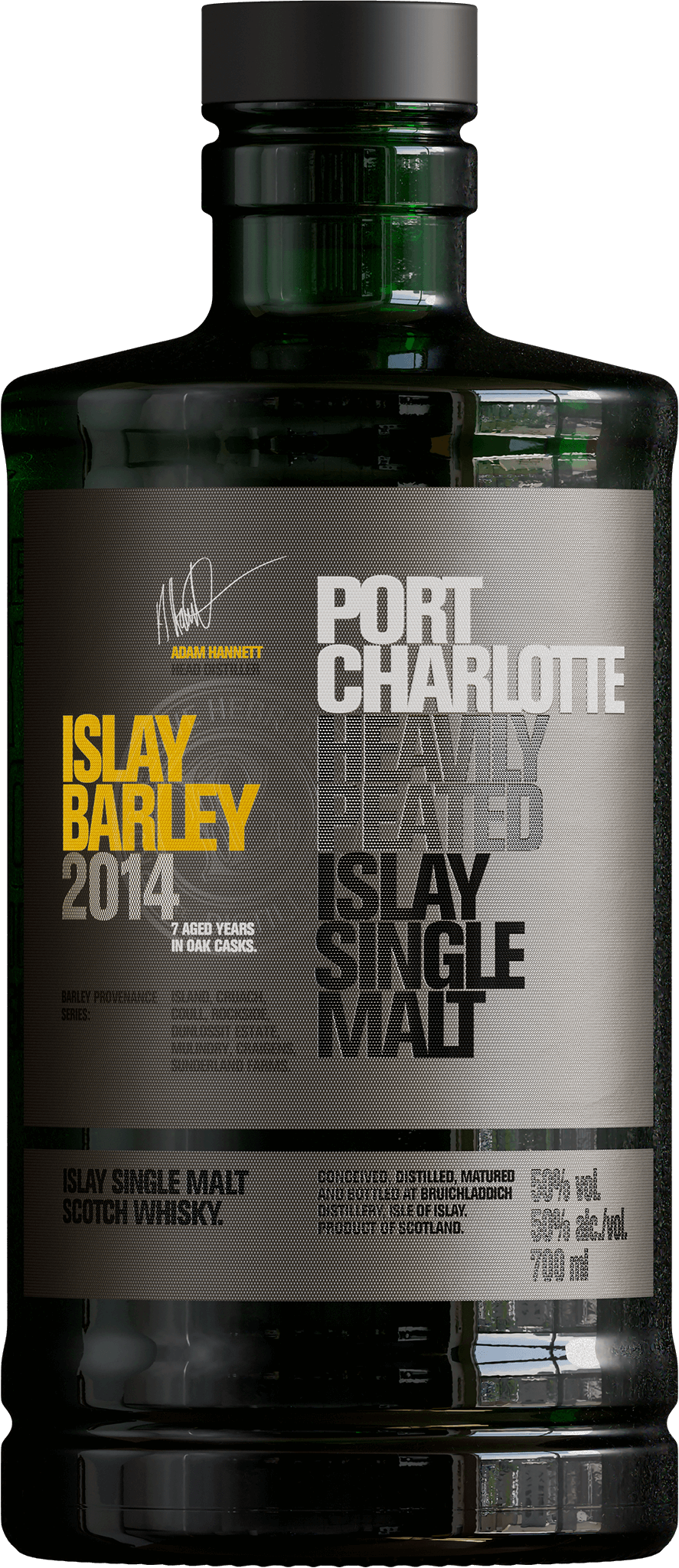 NUTRITIONAL INFORMATION
The figures below state the average representative values per serving giving 10g alcohol, or per standard 25ml measure:
| PRODUCT: | THE CLASSIC LADDIE | |
| --- | --- | --- |
| Alcohol (% by volume) | 50% | |
| Nutritional Values: | Per 10g alcohol (25,3 ml): | Per 25 ml serving:/td> |
| Alcohol (g) | | |
| Calories (Kcal) | | |
| Fat (g) | | |
| - of which Saturates (g) | | |
| Carbohydrates (g) | | |
| - of which Sugar (g) | | |
| Protein (g) | | |
"WE ARE PASSIONATE ABOUT ALLOWING THE BARLEY INFLUENCE TO COME FORWARD IN OUR SINGLE MALTS. THIS PORT CHARLOTTE EXPRESSION IS TESTAMENT TO THAT ETHOS."
EXPLORE MORE FROM PORT CHARLOTTE
---
Our Port Charlotte single malts are peated to a heavyweight 40PPM. Trickle distilled through our tall, narrow necked stills, the resulting rich and aromatic spirit has all the power of peat with the elegance and finesse for which our stills are famous. Port Charlotte single malt explores the complexities of natural whisky; through barley provenance, cask influence and the passing of time.
YOU MIGHT ALSO LIKE
---
Stories of our whisky-making, our people and our commitment to making the most thought-provoking spirits