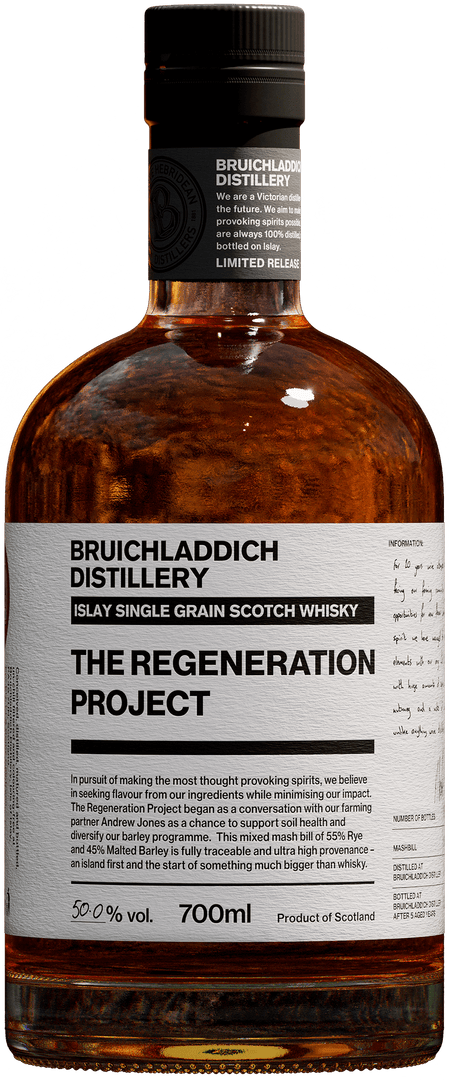 ISLAY SINGLE GRAIN SCOTCH WHISKY
The Regeneration Project
---
£125.00 50% ALC./VOL.
The first ever Islay Rye Whisky. The Regeneration Project is a limited edition, distillery exclusive which proves incredible whisky can make a real difference.

The first ever Islay Rye whisky.
---
Encapsulating Bruichladdich Distillery's 'farmer first' philosophy, The Regeneration Project marks the first ever Islay Rye Whisky.

But, why rye?

Accountable for our impact from the ground up, we learned that rye is a beneficial crop which replaces essential nutrients which barley removes from the land. It not only improves soil health, but reduces the need for artificial input – keeping costs down for the farmer while being more environmentally friendly.

But with no market for Scottish grown rye, why would a farmer grow it? Well, we could buy it. And create a delicious whisky while simultaneously supporting our vital agricultural community on Islay, helping the environment and promoting soil health.
After a conversation with our Distillery Production Director, long standing farming partner, Andrew Jones, grew the rye in 2017 – a first for the farmer, the distillery and the Hebridean island.

The Regeneration Project is the start of something bigger than whisky. This is innovation which keeps value in the community while pursing flavour and reducing impact – showcasing the true power and potential of reconnecting land and dram.
"As a distillery we are accountable for our impact and it starts with growing our essential raw ingredients. The Regeneration Project is the perfect example of seeking flavour while reducing our impact – the pursuit of something bigger than whisky."
The Regeneration Project
PRODUCT DETAILS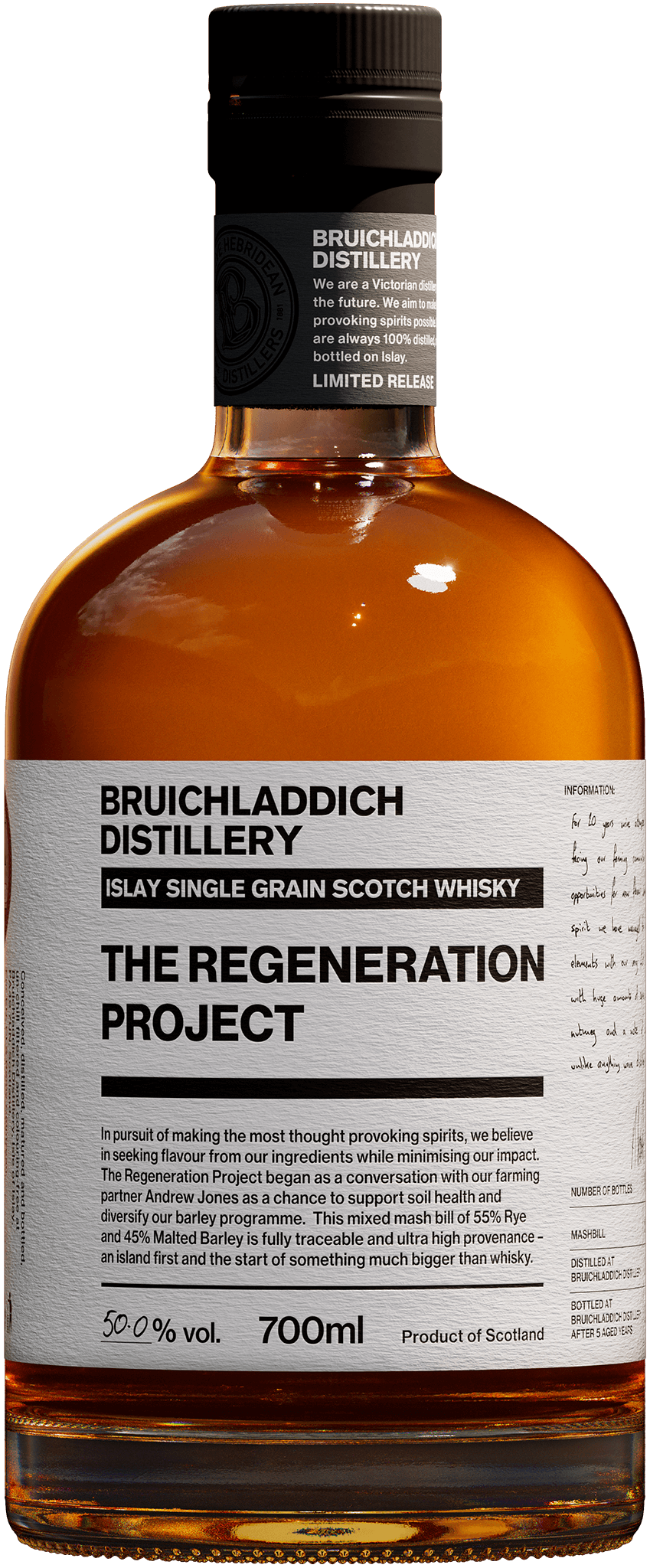 NUTRITIONAL INFORMATION
􀀲
The figures below state the average representative values per serving giving 10g alcohol, or per standard 25ml measure:
| PRODUCT: | THE CLASSIC LADDIE | |
| --- | --- | --- |
| Alcohol (% by volume) | 50% | |
| Nutritional Values: | Per 10g alcohol (25,3 ml): | Per 25 ml serving:/td> |
| Alcohol (g) | | |
| Calories (Kcal) | | |
| Fat (g) | | |
| - of which Saturates (g) | | |
| Carbohydrates (g) | | |
| - of which Sugar (g) | | |
| Protein (g) | | |
Andrew Jones grew our first crop of Rye grain in 2017 at Coul Farm, on the west coast of Islay
55° 47' 12'' N, 6° 27' 50'' W
Coull Farm, Islay.
ISLAY RYE
FIRST ISLAY RYE WHISKY
The Regeneration Project marks the first ever Islay Rye whisky. Distilled with both locally grown rye and malted barley, this whisky is not only a distillery innovation – but is a first for the Hebridean island.
FARMER FIRST
SUSTAINABLE AGRICULTURAL
Born out of a genuine need to find sustainable agricultural solutions and support the local farming community, The Regeneration Project showcases our 'farmer first' mentality. Beyond the pursuit of flavour alone, this is a whisky which champions crop diversification and soil health while simultaneously reducing our impact.

INNOVATION
UNIQUE FLAVOUR PROFILE
An innovation for the distillery, The Regeneration Project pushes the boundaries of flavour exploration. Expect peppery heat and waves of liquorice from the rye, balanced with a subtle maritime quality that speaks of the whisky's all Islay maturation. A unique flavour profile, unlike anything we have distilled before.
EXPLORE MORE BRUICHLADDICH
DISTILLERY PROJECTS
---
Discover our other small-batch Projects experiments that allow our Head Distiller, Adam Hannett, an opportunity to rewrite his own rule book. Brokering new ground is at the heart of the releases in the Projects series, whether that be in crossing the boundaries of spirit type or pursuing flavour where we haven't ventured before.
YOU MIGHT ALSO LIKE
---
Stories of our whisky-making, our people and our commitment to making the most thought-provoking spirits