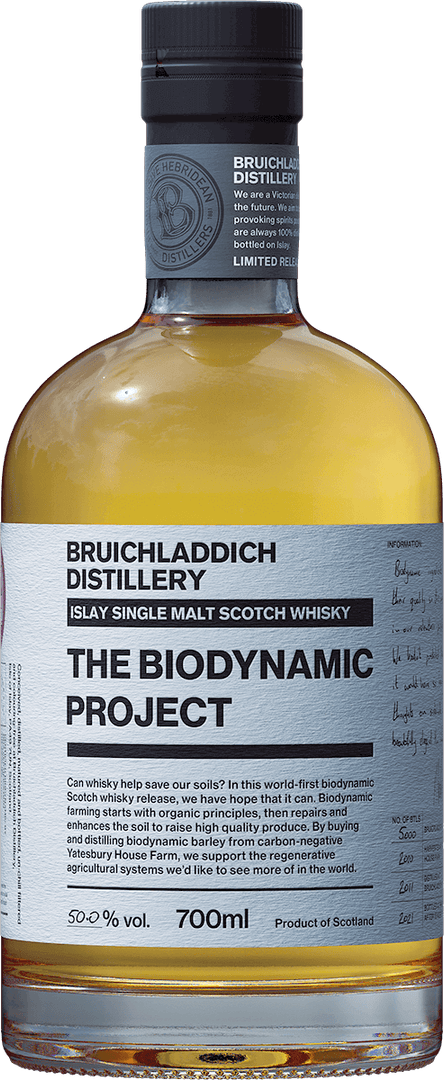 ISLAY SINGLE MALT SCOTCH WHISKY
The Biodynamic Project
---
£100.00 50% ALC./VOL.
The second small-batch experiment in our exclusive Bruichladdich Distillery Project series, The Biodynamic Project is an exploration in biodynamic farming principles and a world-first biodynamic Scotch whisky release.
CAN WHISKY HELP SAVE OUR SOILS?
---
In this world-first biodynamic Scotch whisky release, we have hope that it can. Biodynamic farming starts with organic principles, then repairs and enhances the soil to raise high quality produce. By buying and distilling barley from carbon-negative Yatesbury House Farm, we support the regenerative agricultural systems we'd like to see more of in the world and have been able to create a revolutionary whisky that demonstrates the power of connection from farmer to glass.

With peach, vanilla custard and candied orange on the nose, there is a succulent mouthfeel, supported by caramel chocolate and gentle oak.
Water opens out the floral notes with honeysuckle, rose and geranium on the palate and on the finish, citrus notes, marine air and toffee. Long lasting notes of malt sugar and porridge close.

The Biodynamic Project, like its predecessor The Ternary Project, is taken from the inner workings of our Head Distiller Adam Hannett's sample room. Only available to purchase direct from Bruichladdich Distillery, these non-conformist spirits are revealed for curiosity's sake; small batch experiments that give Adam the opportunity to delve into the warehouses with an open mind and total freedom. The Biodynamic Project is limited to 5,000 bottles.
"THE FLAVOUR OF THE BIODYNAMIC, FROM WHEN IT WAS FIRST DISTILLED THROUGH TO MATURATION IS SUPERB. THERE IS A WONDERFUL ELEVATION OF THE FRUITY CHARACTER OF BRUICHLADDICH WITH THE BIODYNAMIC MALT."
1ST
BIODYNAMIC SCOTCH WHISKY
In the early days of Bruichladdich's resurrection, we sought flavour where no one else thought to look. Paying attention to single malt's all-important raw ingredient, barley, we approached Richard Gantlett and asked him to officially certify as biodynamic.

Providing a direct market for his barley has made it a viable crop for him in his rotation and in return, we have the opportunity to distil a remarkable whisky – the first in the world to be adorned with the Biodynamic Federation's Demeter logo. Its depth and balance is intriguingly different, even within our own back catalogue of barley forward spirits.
10X
MORE CARBON SEQUESTERED THAN EMITTED
Biodynamic farming system is not just about superior flavour, it's about creating a farming system that nurtures all organisms within it.

Barley is rotated with other cereals and a diverse ley which includes 23 species of herbs, legumes and grasses. All rooting at different depths, these plants thrive in diversity, working in the opposite to a monoculture.

The soil is fed with organic matter & micro-organisms to increase its structure and fertility, contributing to a symbiotic food system both above and below ground. A recent carbon audit on the farm saw that 10 x more carbon was sequestered (drawn down) than was emitted.
10
YEARS OLD
This Westminster crop of barley was planted and harvested in the summer of 2010. Distilled at Bruichladdich in 2011, it would mature for 10 aged years in first fill ex-American oak casks. Bottled unchill-filtered and colouring free at 50% ABV, using Islay spring water, this 10 year old whisky shows the longevity of our barley exploration releases.

First pursuing flavour, and now supporting carbon sequestering farms and soil health, it is the whisky of our future.
EXPLORE MORE BRUICHLADDICH
DISTILLERY PROJECTS
---
Discover our other small-batch Projects experiments that allow our Head Distiller, Adam Hannett, an opportunity to rewrite his own rule book. Brokering new ground is at the heart of the releases in the Projects series, whether that be in crossing the boundaries of spirit type or pursuing flavour where we haven't ventured before.
YOU MIGHT ALSO LIKE
---
Stories of our whisky-making, our people and our commitment to making the most thought-provoking spirits