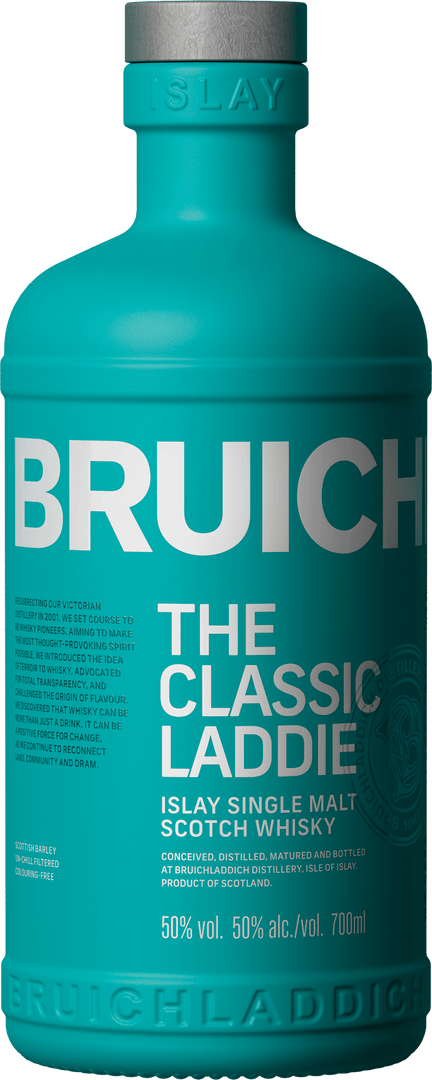 Bruichladdich
The Classic Laddie
SCOTTISH BARLEY
£46.00 50% ALC./VOL.
Our signature bottling and the definitive Bruichladdich. Showcasing the classic, floral and elegant Bruichladdich house style, The Classic Laddie is made from 100% Scottish barley, trickle distilled, non-chill filtered and colouring free.
We are committed to reducing unnecessary packaging and waste and no longer offer a secondary tin when ordering this product. Read more.
HAND-SELECTED BY OUR
HEAD DISTILLER

---
The foundation for our Classic Laddie is not a recipe set in stone, but a distilling philosophy. We have no interest in precise uniformity, instead - year by year - the variety and provenance of our barley shapes our spirit, and an ever-increasing range of casks are sourced to evolve the variety of flavours in our warehouse. Never striving for absolute consistency, each batch of The Classic Laddie will, by nature, be unique and subtly different.

Creating the Classic Laddie is one of the most complex and demanding responsibilities bestowed upon our Head Distiller, Adam Hannett, who curates this assemblage of our finest spirits by hand to achieve our signature fruity and floral Bruichladdich house style.
Composing each unique recipe is a rigorous process. Adam must systematically sample and evaluate every spirit by nose, taste and mouthfeel. It is painstaking and difficult work, requiring a clear head and many checks, pauses and re-evaluations over many weeks. The final formula is decided in the quiet of his sample room.

We bottle our Classic Laddie at 50% alcohol by volume as opposed to the average of 40-46%. The flavour of our spirit at 50% ABV is barley forward, meaning you taste more of the Scottish malt we have worked hard to trace. We will not stretch our spirit and compromise on quality for the sake of profit.

You can access the full detail of what's in your individual whisky by entering the code on your bottle further down this page.
IT'S CALLED SCOTCH FOR A REASON
The suite of casks selected for each batch of The Classic Laddie has been filled with the spirit we distil from 100% Scottish-grown barley. We could never deny that there is a romantic element in our determination to source our core ingredient from Scotland; after all, there is no requirement to make it so. But this is not simply sentiment; the unique combination of an ideal climate, high latitude and the soil types found in Scotland makes the Scottish barley crop perfect for creating the optimum flavour profile during distillation.
Bruichladdich
The Classic Laddie
PRODUCT DETAILS
NUTRITIONAL INFORMATION
The figures below state the average representative values per serving giving 10g alcohol, or per standard 25ml measure:
| PRODUCT: | THE CLASSIC LADDIE | |
| --- | --- | --- |
| Alcohol (% by volume) | 50% | |
| Nutritional Values: | Per 10g alcohol (25,3 ml): | Per 25 ml serving:/td> |
| Alcohol (g) | | |
| Calories (Kcal) | | |
| Fat (g) | | |
| - of which Saturates (g) | | |
| Carbohydrates (g) | | |
| - of which Sugar (g) | | |
| Protein (g) | | |
REVEAL YOUR CLASSIC LADDIE RECIPE.
SAMPLE RECIPE CODE: 19 / 999
WE BELIEVE THAT YOU SHOULD HAVE THE RIGHT TO KNOW WHAT'S IN YOUR WHISKY.
No Hidden Measures
Despite the small number of raw ingredients in Scotch whisky, only a handful of producers will share their origins. Being transparent about what's in your glass is still a surprisingly radical approach, but you have the right to know what's in your bottle. We argue that flavour is derived from the whisky making process and ALL of the ingredients. The age of the spirit and the type of casks used are not the only signifiers of quality. A whisky like this should be considered in its entirety.
Taste Profile Diagram
Key to Ingredients
[ No. OF CASKS ]
The number of casks will help you estimate how much of that spirit type is in your overall recipe. You should note that some types of casks have a stronger influence than others. For instance, first fill ex-wine casks impart a stronger flavour to our spirit, than first fill ex-bourbon casks. Virgin oak casks are particularly powerful.
[ DISTILLATION YEAR ]
This refers to the year the spirit was distilled and filled into casks. Within this section, there are some years that are displayed and some that are redacted. We are only allowed to display the year relating to the youngest component part; meaning the spirit that has spent the least time maturing in their respective casks. The other years have to be hidden due to EU law. While this is frustrating, you can use what's there to calculate the age of the youngest part, as we also tell you when your spirit was bottled – top right. For example, if the youngest spirit was distilled in 2012, and the batch was bottled in 2019, all of your whisky is at least 6 years old.
[ BARLEY ORIGIN ]
Simply, where or how the barley was grown.
[ CASK TYPE ]
In order, this describes the country of origin, the type of alcohol it previously held, the size of the cask and how many times it has been filled by Bruichladdich. CAN'T LOCATE YOUR UNIQUE RECIPE CODE?
The
5 digit code
can be found at the base of the back of your classic laddie bottle.
e.g. 19/999
GLASS REFINED
Containing an average of 60% recycled glass compared to our previous bottle, the new optimised glass bottle for The Classic Laddie is 32% lighter. Total packaging CO2 emissions have been reduced by 65%, yet we haven't compromised an inch on the quality of our Bruichladdich single malt. This is the new Classic Laddie – a symbol of our values, our progress and our commitment to the future.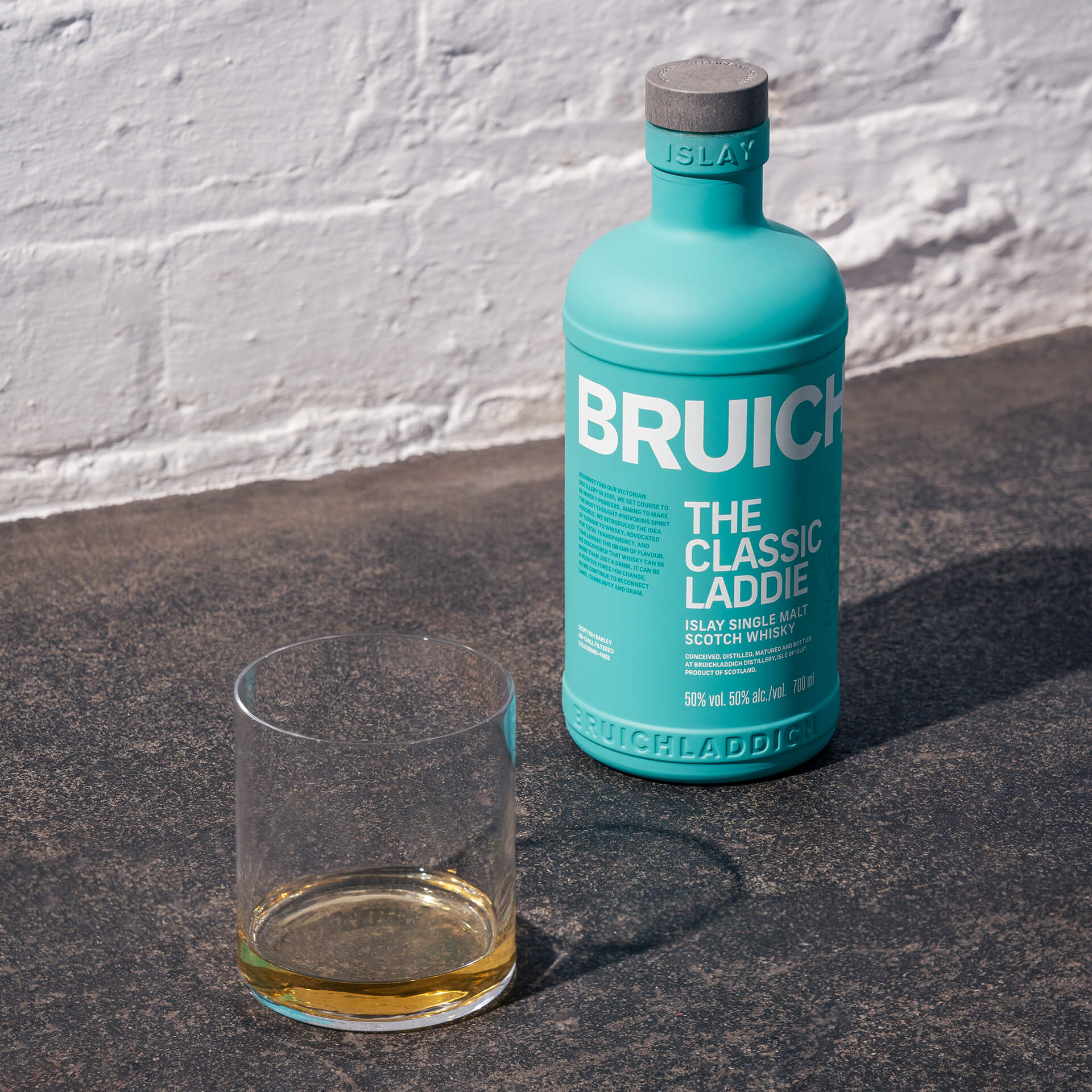 ISLAND INFLUENCE
Fully exposed to the power of Atlantic storms, the salt-soaked air permeates the very fabric of our distillery. A fresh marine salt-citrus tang is the signature accent of The Classic Laddie and those who have been here will understand the profound contribution of our Hebridean island home to the development of this, our signature single malt.
EXPLORE MORE FROM BRUICHLADDICH
---
Our Bruichladdich whisky range is unpeated, floral and complex. Trickle distilled from 100% Scottish barley using much of the original Victorian machinery, the methods employed by our craftsmen have continued unchanged. This is natural whisky, non-chill filtered and colouring free.
YOU MIGHT ALSO LIKE
---
Stories of our whisky-making, our people and our commitment to making the most thought-provoking spirits